Swipe for more categories


Tires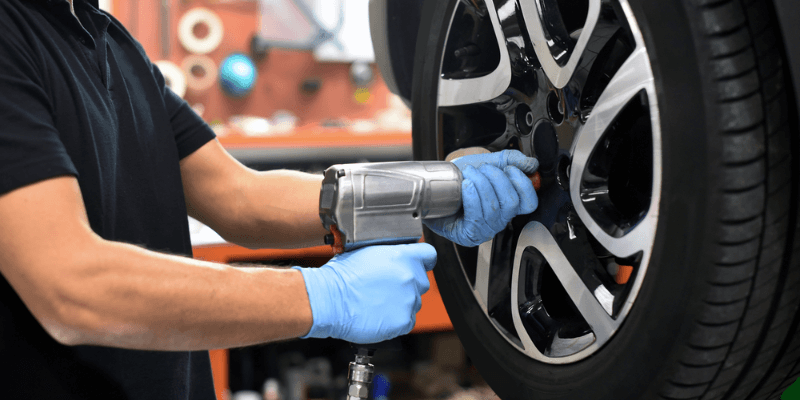 Tires are considered one of the most important components of the composition of a vehicle, which is why it is recommended never to overlook regular maintenance. While tire repairs are not expensive on their own, replacing a full set of tires can easily cost $400 or more.
Tire Rotation
Often overlooked as a standard service, tire rotations are vital in ensuring the full life of a vehicle's tires after its daily operation. Tires begin to develop wear on both sides with normal use. Rotating a vehicle's tires is important to balance the wear developed over time, as rotating the tires re-balances the vehicle. While newer tires have become very maintenance-free, it is still important to perform regular rotations every 5,000 to 7,500 miles.
Wheel Alignments
As a vehicle is in its daily operation, there are many instances it will be met with various obstructions in the road. These obstructions can vary from potholes to debris in the road and even running up a curb while parking. If a vehicle is impacted hard enough, it will begin drifting to one side. This is due to the vehicle being knocked out of alignment after a severe impact on the road. To have the wheels re-aligned, the vehicle's owner simply needs to bring the vehicle to a local repair shop.
Before bringing the vehicle in for an alignment, it is recommended to check the tires pressure, as low pressure could also cause vehicle unalignment. This could also occur in the event of a vehicle's tire showing signs of tire wear. If a vehicle's tire is wearing out, the affected side will cause the vehicle to pull, or drift, in a certain direction. While there is no exact mileage that wheel alignment is required, it is always best to have the vehicle's tires inspected for an alignment when the tires are rotated.
Visual Tread Inspection
While it is important to have an overall tire inspection performed at a service center or repair shop, there are monthly inspections that should be performed by the vehicle's owner. Once every month, an individual inspection for tire wear and damage should be performed to determine if the tires require replacing. One easy way to inspect a vehicle's tires is through the use of the Quarter Test. Steps required to perform this test can be found on our Mobile Tire Service Guide . It is important to perform these self-tests as it could avoid lasting damage to the vehicle and provide protection while on the road.
Tire Pressure
Despite most vehicles being advanced enough to actively monitor tire pressure, it is still important to check a tire's pressure once a month to avoid potential damage. This can be done through the use of a tire pressure gauge, which provides an active reading of a vehicle's tire pressure. During operation, the tires will slowly deplete their air pressure when coming in contact with uneven roads, bumps and curves, and potholes.
Often, the climate a vehicle is being operated in plays a part in the overall depletion of a tire's air. Vehicles operating in a warmer climate will lose air at a slower rate than those operating in a colder climate. While it is advised to check a tire's air pressure monthly in warmer climates, it is recommended to check a vehicle's tire pressure every two weeks in the presence of colder environments.
×
Thank you! An agent will be contacting you shortly.