Swipe for more categories

Car Odor Removal: Remove Smoke Odor from Car and More
on June 19, 2019

Car Odor Removal: Remove Smoke Odor from Car and More
on June 19, 2019
The interior of your car is not a large space, and when you're driving there's no escape. If you have a nasty odor circulating within your vehicle, the car can become something of a torture chamber! Mildew or lingering cigarette smells can be quite vexing, and, if you want to remove smoke odor from car fabrics, it can be tricky. If you are regularly chaperoning children in your car, you may find yourself driving while enduring the smell of vomit or food and beverage items that made a home in your backseat. However, this doesn't have to be the permanent condition of your car's interior. Car odor removal can be fairly simple and quick. In this article, we'll go over some of the common causes of bad car smell and how to eliminate them.
Car Interior Cleaning: How to Remove Odor From Car
The first thing to do when attempting to get rid of odor in car is to do an overall interior cleaning. Grab yourself a trash bag and gloves, and start exploring the nooks and crannies of your car's passenger compartment. Purge the vehicle of all the old french fries, cigarette butts, food wrappers, and general debris that may be hiding within your car. Be sure to check common areas where you or your passengers may have absent-mindedly stuffed litter; such as the glove box, cup holders, and storage slots on your car doors.
Car Vacuum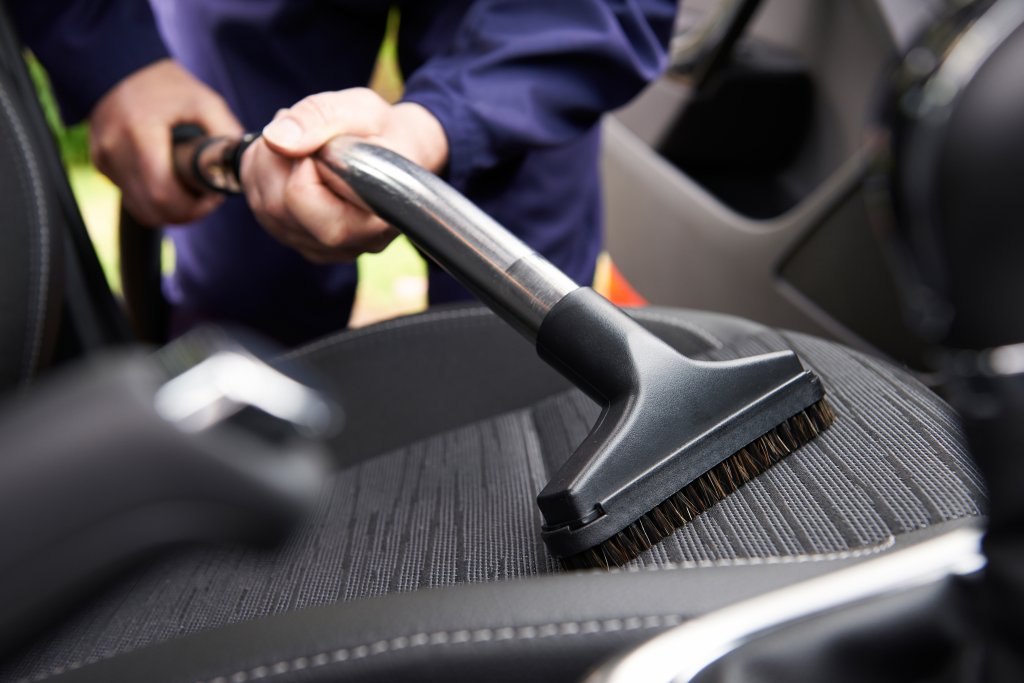 Once you've cleared out all the bulky debris, go over the interior with a car vacuum cleaner. You can either use a car wash vacuum, a portable car vacuum, or a household vacuum with an attachment for car interior upholstery. Most odors become resident in the car upholstery fabric, and vacuuming is a great way to remove smell from car upholstery. Be sure to go over all corners and edges as the odors can originate from small hidden spaces in the vehicle.

Vacuuming the car seat upholstery and any other fabric in the car will usually eradicate most odors. Some tougher smells may remain, and will require a more thorough cleaning.
Car Upholstery Cleaner: Car Odor Eliminator
If you've vacuumed your car but find that it still stinks, you'll need to know how to clean car upholstery. You can use a car upholstery steam cleaner, a DIY car upholstery cleaner, or a store-bought cleanser for an interior car wash. Many knowledgeable sources recommend using an equal parts water/vinegar spray to do away with unpleasant aromas. Furthermore, there are some other great household items that can be used as a car odor eliminator. Everyday products that can be used as an odor absorber for car interiors include: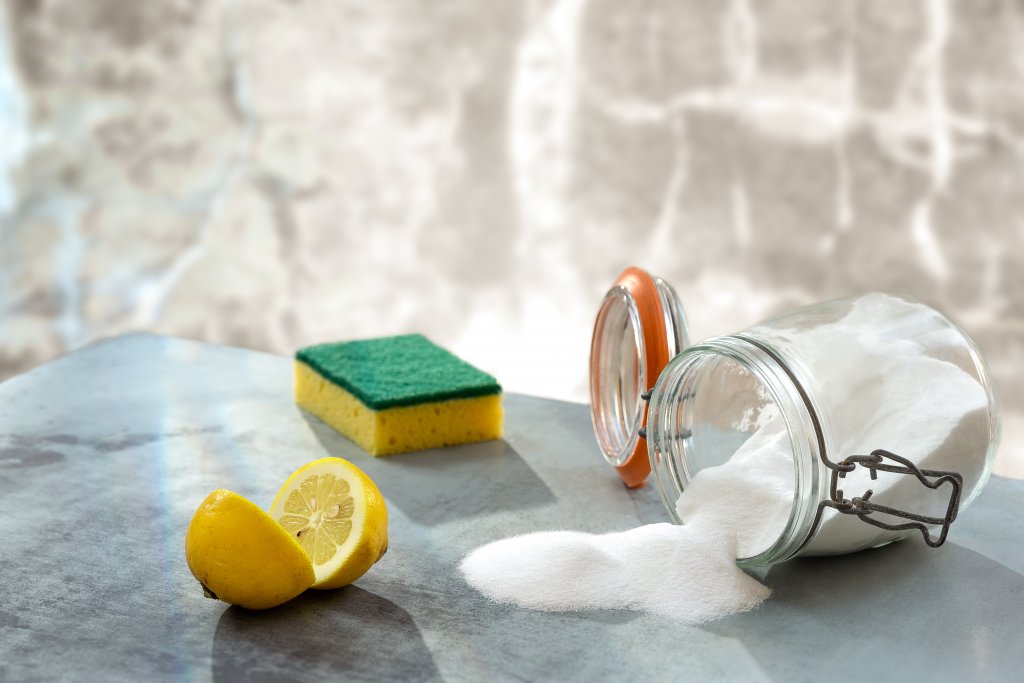 Baking Soda: After you've cleaned your car,

baking soda is one of the best odor absorbers you can use for carpet and upholstery

.

Sprinkle the baking soda on the necessary places in your car and let it sit for a few hours or even overnight.

Once the baking soda has been left with adequate time to absorb the odor, clean it up with a handheld car vacuum.
You may also consider applying baking soda to hidden spots in your car for long term odor absorption. Sprinkling baking soda under the car seats or in the trunk will be effective for continuous odor prevention. You can also place baking soda refrigerator boxes in your car as it has the same effect, but saves you the hassle of vacuuming under your seats or trunk later.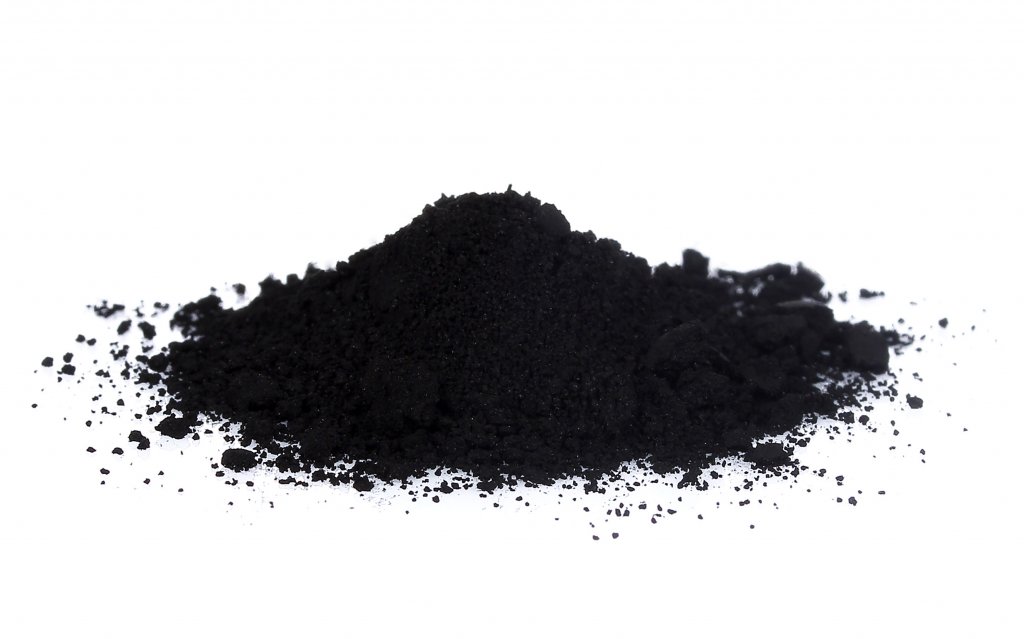 Charcoal:

Activated charcoal

is one of the best solutions for ridding your car of odors as well as mold and mildew.

As opposed to baking soda, activated charcoal is a better option for long term odor neutralization

. Whereas baking soda will need to be replaced semi regularly, activated charcoal will work fantastically at absorbing the odors in your car for up to 2 years. Furthermore, the odor absorbing properties can be refreshed by simply leaving the activated charcoal out in the sunlight for a few hours.
It is not recommended to sprinkle charcoal on fabrics like baking soda. Charcoal is dark and may leave a residue that will stain lighter colored materials. The best option is a pre-packaged charcoal odor neutralizer that you can leave under your car seats, in the glove box, or in the trunk. You can also use lumps of charcoal intended for grilling. If you leave some grilling charcoal in the car for a few days, it will effectively absorb any unwanted odors. This is a cheaper but more temporary solution.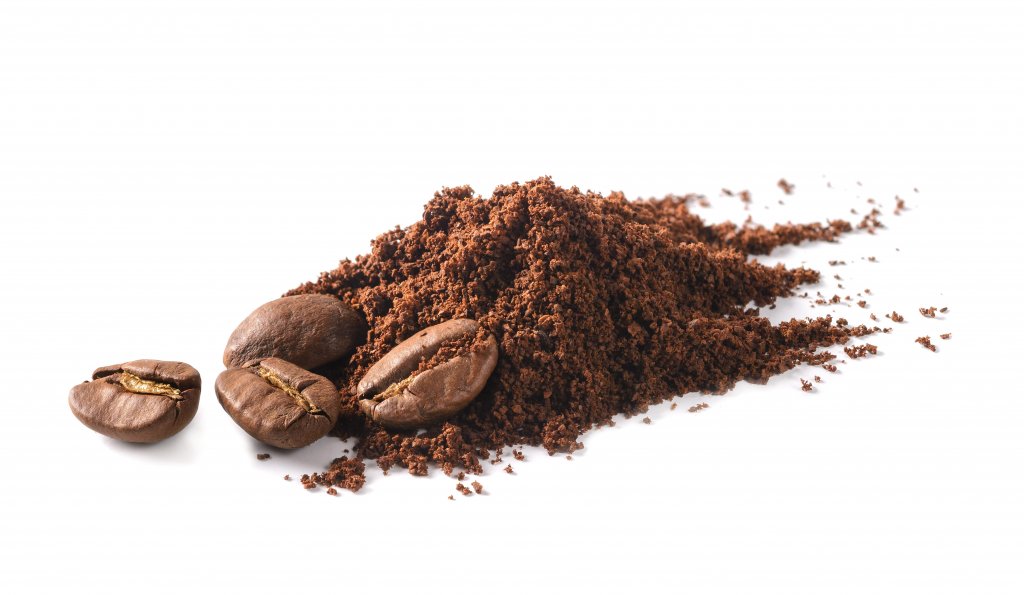 Coffee Grounds: Coffee beans or coffee grounds are surprisingly great at eradicating odor with the added benefit of emitting the pleasing smell of coffee! If you're not a fan of coffee aroma this may not be the choice for you, but if you enjoy the smell of coffee, this is a great way to destroy unwanted odors and replace them with a more desirable scent.
In order to use coffee to kill the stench in your car, simply leave a bag or bowl of coffee beans or grounds in your car overnight. If the smell is gone, you can remove the coffee. If you greatly enjoy the smell of coffee, you can leave the coffee in your car as long as you like. As long as they stay dry, coffee beans and grounds will last a long time before they become moldy or rancid.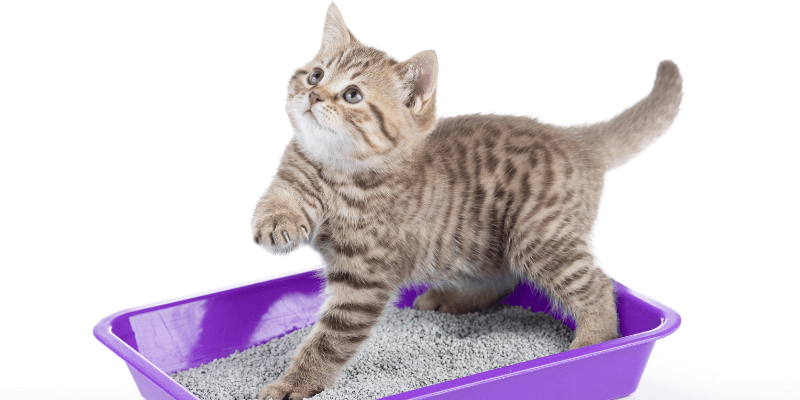 Cat Litter: Much like baking soda and charcoal, cat litter can absorb the uninvited smells in your vehicle with great results. Unlike the other products in this list, kitty litter is manufactured with the sole purpose of eliminating undesirable scents.
Kitty litter can be used like baking soda, though you may find cleanup to be a bit more difficult. Once the cat litter has absorbed the odor, you'll need to vacuum it out of your car. A portable car vacuum cleaner may not be strong enough for this task. If you have access to a heavy duty vacuum, you'll have better results. You can place an open bag of cat litter in your car to neutralize odor, but the litter works best when placed directly on the source of the stench.
Car Odor Remover
The household items listed above are all great for removing car odor, but some odors require some extra attention to ensure the scent is truly gone. Cigarette smoke, mildew, and vomit seem to be  the most common car odor problems that most people need help with.
How to Get Smoke Smell out of Car: Remove Cigarette Smell from Car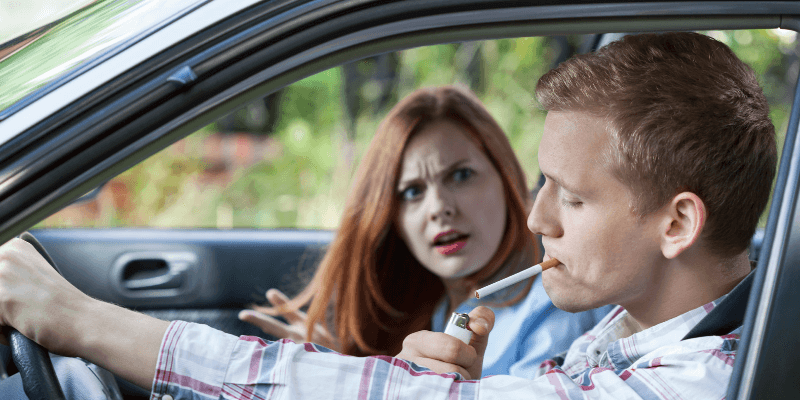 If you or your partner are smokers, you may want to know how to get cigarette smell out of car fabric. Even if you don't smoke, you may have purchased a used car from a smoker, or you may have friends and/or relatives who regularly smoke in your car. Regardless of who the culprit is, cigarettes stink! Unlike some of the other usual causes of odor in your car, it can be a bit trickier to remove cigarette smell from car interiors. Clear the smoke aroma out of your car completely with these simple steps:

Empty the Ashtrays: If you currently smoke in the car, empty and clean all ashtrays.
Clean the Surfaces: Using a mixture of equal parts White Vinegar and water, wipe down all surfaces in the car's interior. The dashboard, vents, center console, and doors will have smoke residue that needs to be removed. If the smell doesn't seem to be decreasing, add some dish soap to the mixture.
Wipe it Dry: Once you've wiped everything down with the vinegar solution, go back with a dry towel and wipe everything clean.
Deodorizing Spray: Smoke gets everywhere in your car. To ensure that you're not just gonna blow more smoke residue into the car after you've cleaned it, spray a deodorizer into the car's vents and the air intake valve.
Vacuum: Using a cordless car vacuum, or whatever vacuum works to your liking, go over all the upholstery, the carpet, and the ceiling fabric.
Change the Air Filter: To ensure that the smoke smell completely leaves your vehicle, it's wise to replace the car's air filter. If you or your passengers have been smoking in the car, the air filter has collected smoke residue. Without changing the filter, the smoke odor will continue to circulate through the air system.
How to Get Mildew Smell out of Car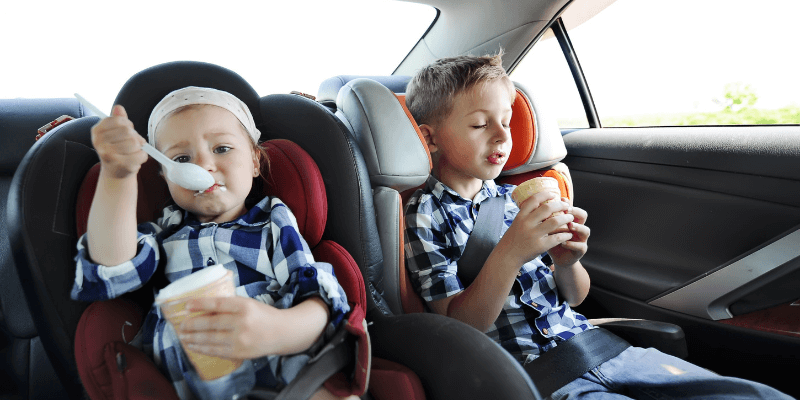 A mildew smell in your vehicle is not only unpleasant, but it's also not healthy for you and your passengers to be breathing. Breathing mold and mildew spores can result in nasal, throat, eye, and skin irritation. Even if you're not experiencing physical symptoms from mildew exposure, it's not enjoyable to be driving with a mildew odor in your car. Knowing how to remove mildew smell from car upholstery and fabric will save you this headache. Mildew removal can be done fairly easily by following these steps:

Vacuuming: Use a wet-dry vac and vacuum out all moisture in the car's upholstery and carpet.
Rugs and Mats: Take any removable rugs and mats out of the vehicle and clean them. The owner's manual will tell you the proper way to clean the rugs and/or mats of your specific vehicle.
Let it Dry: Leave all windows in the vehicle open for 8 to 10 hours to dry out the car. Leave any rugs or mats you've cleaned in a sunny spot to dry as well.
Inspection: If you are unsure why your vehicle contains mildew, check the door seals and windows for possible leaks. If your vehicle is leaking, you may have to bring it to a mechanic for repair.
How to Get Vomit Smell out of Car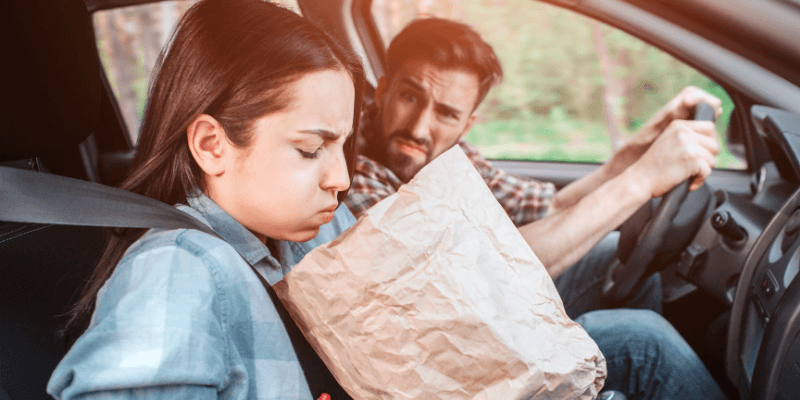 If you have children or pets, car sickness may be a regular issue for your passengers. Vomit is an odor source that needs to be dealt with as quickly as possible. If the vomit left too long, the acids is contains will damage fabric fibers and become embedded in the upholstery. Because it's best to clean vomit quickly, it's important to know how to remove vomit smell from car fabric ahead of time. Follow these steps to clean vomit from your car quickly and thoroughly:

Collect the Vomit: Use some paper towels to remove the bulk of the vomit.
Clean the Spot: Mix a solution of equal parts white vinegar/water in a large bucket. Soak a clean rag in the mixture and scrub the vomit stain. Continue until no residual vomit is present.
Vacuum: Use a wet-dry vac on the spot to remove the water and vinegar from the carpet or upholstery.
Best Car Interior Cleaner: Best Car Odor Eliminator
Home remedies for everyday problems are great, but sometimes you just need a good, reliable product. When you're buying a car odor eliminator or a car interior shampoo, you're obviously going to want a product that's going to work well every time you use it. Below is a list of some of the best shampoos and deodorizers on the market:
Best Car Odor Eliminator
Whether you're driving with kids, pets, or messy adults, your car will inevitably fall victim to some smelly things. Regardless of who your cruising with, you don't have to tolerate uninvited odors nesting within your vehicle. Some smells may be tricky to dispatch, while others simply need to be aired out. Whatever the case may be, using the tips and tricks in this article will ensure that you never have to ride around holding your nose.
×
Thank you! An agent will be contacting you shortly.