🡄 Swipe for more categories 🡆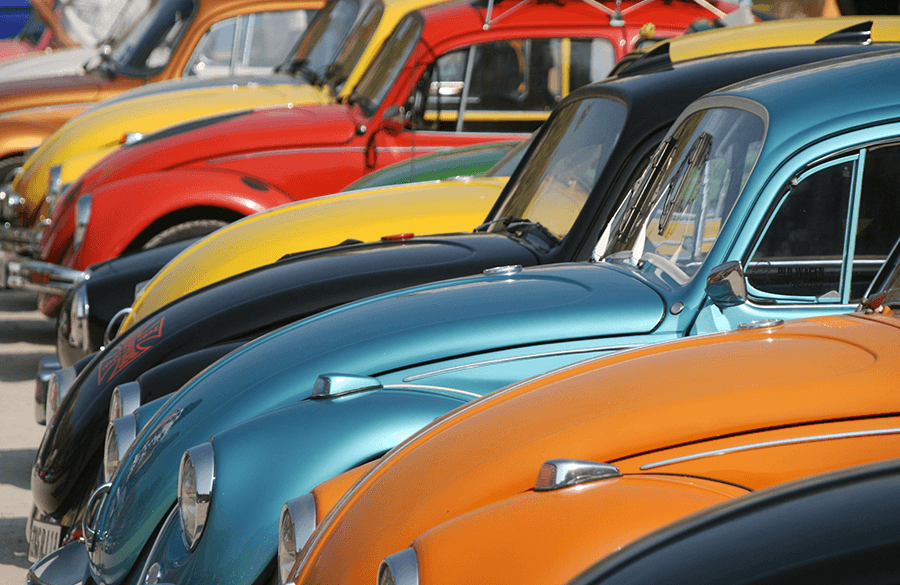 If you've been in a car, you've played the "Punch Buggy Car" game. Although the game may have always seemed universally straight forward, there are multiple variations of "Punch Buggy" or "Slug Bug". Therefore, the was a need to gather proper research and make collaborations to develop the proper rule set. This is everything you need to know about the Punch Buggy. This also contains everything to know about the origin of Slug Bug and its transition from old-school-to-modern. The Volkswagen Beetle has acquired many nicknames: punch bug, punch car, punch dub, piggy punch, slug bug, beetle bug, and the infamous "Punch Buggy." This car game is generally played by children in which participants punch each other on the arm upon first sight of a Volkswagen Beetle while calling out "Punch buggy" or "Slug bug".
Punch Buggy Origin
The origin of the Slug Bug game revolves around Germany in the 40s. When the Beetle was introduced in Germany, its original design intention was to serve as an economy car or the German Soldiers, it eventually turned into the true "people's car". The "Slug" part derives from German soldier's aggressive behavior, citizens were being abused when the Soldiers showed up in their "bug" –because the Volkswagen's design resembles a horse and buggy— therefore the phrase "Slug Bug" was coined. As that time moved passed that era, the citizens modified the barbaric tradition in a friendlier manner by simply punching another upon sighting of a "slug bug."
While the Beetle's popularity spiked in the 1960s, this game made its way overseas to the United States. This is where the traditional game "Slug Bug" transitioned into "Punch Buggy", but the rules mainly stayed the same as newer generations of the car kept coming out. Nearly half a century later, Volkswagen initiated a marketing campaign for the so-called tradition. As part of the "Punch Dub" marketing campaign, Volkswagen made an imitation game of seeing VWs and punching friends". This campaign, launched in 2009 as a Superbowl advertisement, claims they started the game "over 50 years ago", though this is a humorous historical fiction created by the ad agency Deutsch Inc.
Any Volkswagen Beetles in a Volkswagen dealer is unplayable.
Any Volkswagen Beetles at a junkyard is unplayable.
Any Volkswagen Beetle for sale is playable.
Any Volkswagen Beetle in a Car Show is playable.
Any Volkswagen Beetle on the road is playable.
Any VW Beetle for sale is playable.
Any Volkswagen Beetle that is parked is playable (unless in dealership or junkyard).
No Punch Back Rule:
This rule can get construed quickly so read carefully.
Any VW Beetle sighted and first correctly announced by a player gives them immunity for that vehicle punch allotment. If a player sees a black Volkswagen Beetle, and says "(Type) Black Punch Buggy No Punch Backs!" they are only immune for that specific vehicle. If another black Punch Buggy appears, he is not immune unless he calls out that one as well!
If the phrase "No punch backs" isn't announced, that player is vulnerable to being punched! However, if the player remembers to say "No punch backs" before they are punched, it must be honored! Any Volkswagen Beetle that is playable, remains in play until there is one player left who hasn't announced the Beetle, and all punches have been allotted.
The Punch Buggy Game:
The sighting of a Volkswagen Beetle in a vehicle with multiple passenger initiates the game:
For future proofing purposes all variations of the Volkswagen's Beetle will be regarded as playable. As older models inevitably become less common on the road, there is a need to include the newer Beetles. There should be a bonus for calling out a sighting of an antique or classic Beetle, seeing as how they are a rare sighting. Therefore, classic and antique bugs will count for multiple punches. All punches must be on the arm, all other places are prohibited.
Free Introductory Maintenance
Oil Changes, Brakes, Batteries
+ more
!
These will serve as the point rubric:
New: A vehicle that is less than 25 years old.
Classic: A vehicle that is or appears over 25 years old.
Antique: A vehicle that is over 35 years old.
Convertibles: Adds a bonus punch to the Beetle sighting.
"New" Volkswagen Beetle = 1 Punch
"Classic" Volkswagen Beetle = 2 Punches
"Antique" Volkswagen Beetle = 3 Punches
This tradition will eventually phase out, so enjoy it while it lasts; Unfortunately, Volkswagen is phasing out the 2019 Punch Buggy.
×
Thank you! An agent will be contacting you shortly.