Swipe for more categories

New Port Economic Development Commission Press Release
on September 20, 2023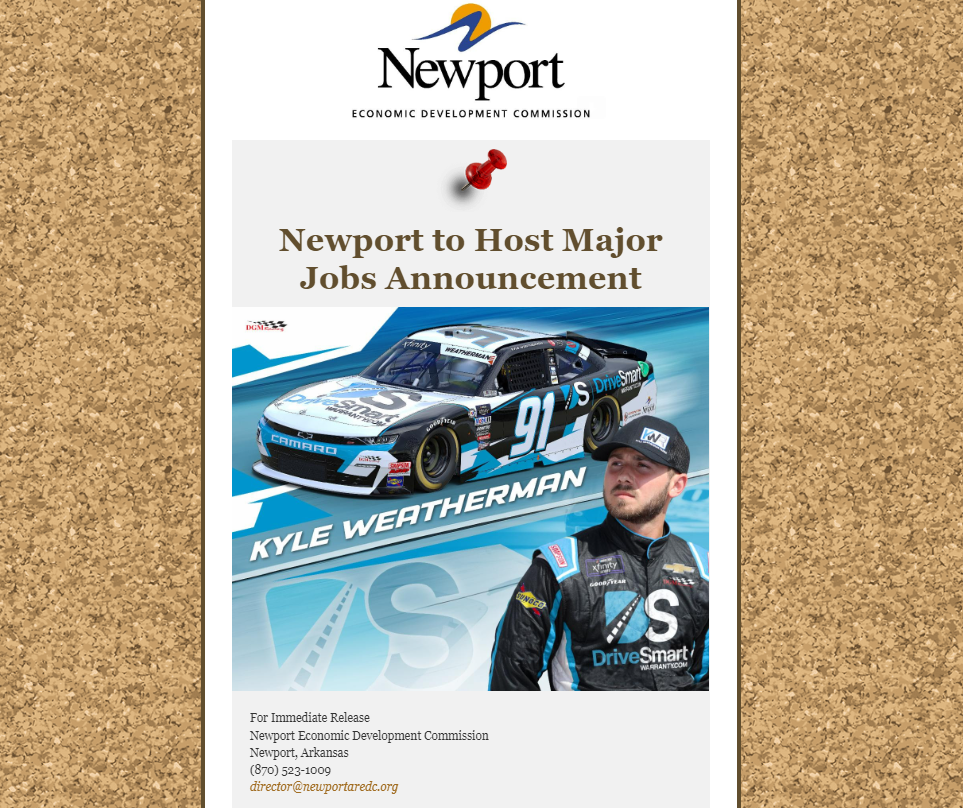 New Port Economic Development Commission Press Release
on September 20, 2023
NASCAR Xfinity driver Kyle Weatherman with the DriveSmart car will join the Newport Economic Development Commission as well as state, local and corporate officials on Sunday, September 24 at 2:00 pm for the announcement of a major job creation project in Newport, Arkansas. Weatherman will be on hand to sign autographs and the company will start taking applications of interest for the 200 jobs they plan to create in Newport over the next three years. The event is open to the public and free of charge.
Weatherman and his car will be transported to Newport directly from the Xfinity Playoff Race at the Texas Motor Speedway. An autograph booth will open at 2:00 pm with the official announcement occurring at 2:30 pm. All events will be hosted in front of the Newport Economic Development Commission building, 201 Hazel Street, Newport, Arkansas. Weatherman will be available to sign autographs until 3:45 pm. Hotdogs and snow cones will be available for purchase through a local vendor on site during the event!
Corporate representatives will also have company giveaways for attendees as long as supplies last. The expected investment in the project will be between $4 and $5 million. The jobs will consist of office positions which will include compensation in the form of a fixed salary plus a commission.
A press release will be distributed at the event which will detail the name of the company and more details on employment opportunities. On September 24 meet a NASCAR driver in person, be part of the bright future of Newport and learn more about the exciting new employment opportunities coming to northeast Arkansas.
×
Thank you! An agent will be contacting you shortly.