Swipe for more categories

DriveSmart Warranty Joins Forces with DGM Racing and Kyle Weatherman Weatherman to Pilot DGM Racing's No. 91 at Texas Motor Speedway
on September 12, 2023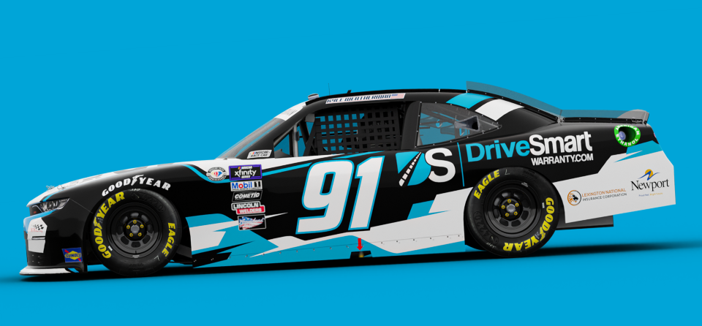 DriveSmart Warranty Joins Forces with DGM Racing and Kyle Weatherman Weatherman to Pilot DGM Racing's No. 91 at Texas Motor Speedway
on September 12, 2023
LAKE WALES, Fla., (September 12, 2023) – DGM Racing proudly announces that DriveSmart Warranty will sponsor its No. 91 Chevy Camaro with Kyle Weatherman behind the wheel at the upcoming NASCAR Xfinity Series (NXS) Playoff race. DriveSmart Warranty, a national extended auto warranty provider, will adorn Weatherman's Chevrolet with Lexington Insurance and Newport, AR, serving as associate sponsors.
During its NXS debut, DriveSmart Warranty is looking forward to promoting its premium coverage and savings programs to a new audience.
"Our family at DriveSmart is very excited to have the opportunity to work with Kyle Weatherman and the DGM Racing team!" says Dan Rodd, owner of DriveSmart. "When we decided to get back into NASCAR, choosing Kyle Weatherman was a no-brainer for us. His performance and ability to get it done on the track is exactly what DriveSmart was looking for!"
To celebrate its return to NASCAR and kick off the partnership with DGM Racing, DriveSmart held a paint scheme design contest which ran from July 20, 2023, until August 14, 2023, to engage with fans within the community and give the lucky winner a once-in-a-lifetime trip to see their design in person at the race. In addition to seeing their design on the track, the winner of the contest also receives a paid-for trip including a flight, hotel, and VIP Garage Passes to watch the Texas race in person.
Weatherman and a panel of influencers selected the finalists out of more than 40 paint scheme submissions, leaving the final decision to a public vote. With over 100 votes, Landon Milz was declared the winner with 33% of the votes and will be joining DriveSmart to see his dream come to life at Texas Motor Speedway.
"Engaging with the fans who keep our sport alive is very special and important to me, and to join forces with an organization who shares that value is an opportunity that I am extremely thankful for," Kyle Weatherman shares. "I know Mario leads a dedicated group of hard-working individuals at DGM, and I am beyond pumped for a solid run in the DriveSmart Warranty Chevrolet at Texas!"
The Andy's Frozen Custard 300 will be televised live on USA Network on Saturday, September 23, 2023, at 3:30 p.m. ET. Practice and qualifying will take place at 10:30 a.m. ET.
About DGM Racing
Driven by pure passion and love for everything racing, DGM Racing is a family-owned and operated business headquartered in Lake Wales, FL. Since 1990, Mario Gosselin and his wife, Michelle, have worked tirelessly to elevate DGM Racing and grow the organization each year. What started as a local hobby on the weekends in Hialeah, Florida, has grown into a powerhouse organization fielding four NASCAR Xfinity Series cars. Going into the 2023 season, the team has more than 179 Top-20 race finishes and five Top-20 finishes in driver standings between 2020-2022.
For additional information, news and the latest updates, connect with DGM Racing at www.dgmracing.com, Facebook (DGM Racing), Twitter (@dgm_racing_), Instagram (@dgm_racing_), or TikTok (@DGMRacingFL).
About DriveSmart Warranty
DriveSmart is one of America's most extensive Auto Warranty Providers. Offering a multitude of plans to fit any vehicle regardless of year, make, model, or mileage. DriveSmart Warranty, a leading provider of extended vehicle protection plans. As a trusted name in the automotive sector, DriveSmart Warranty offers comprehensive coverage options that gives drivers peace of mind and protection against unexpected repair costs.
Founded in 2016, DriveSmart had one goal in mind: To save customers money on unexpected auto repairs! Owning a car is one of the biggest investments you can make in life. Give us a call today and see how we can help you save money. 1.888.370.0170
×
Thank you! An agent will be contacting you shortly.