By Brandon Griner | March 15, 2018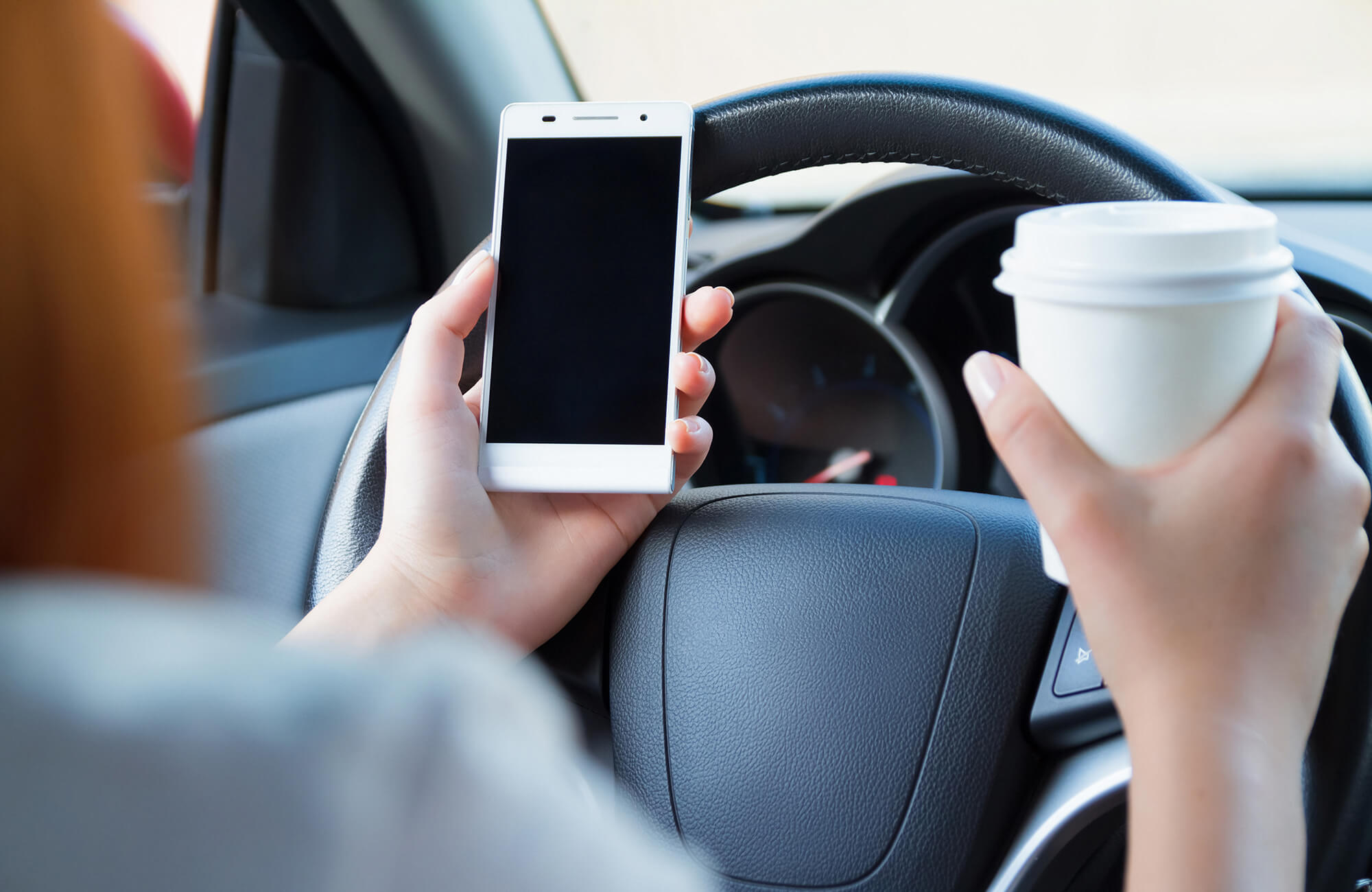 Distracted driving is any activity that diverts a driver's attention from driving. This includes texting or talking on your phone, eating and drinking, playing with your stereo/radio/navigation system, and even talking to passengers in your vehicle. Distracted driving is defined as anything that takes your attention away from the safe task of operating a vehicle. Any non-driving activity while you're behind the wheel is a distraction and increases the risk of a crash or accident. Traffic safety experts have classified driving distractions into three main types: manual, visual, and cognitive. A manual distraction is considered any action where you move your hands from the wheel. A visual distraction makes you focus your eyes away from the road. A cognitive distraction is where your minds wanders while you're driving, taking the focus of the task-at-hand away. Texting while driving involves all three types of distractions. Sending or reading a text message while driving takes your eyes off the road for 5 seconds, which at just 55 mph can lead you the length of a football field. In this article, I will explain why it's time to put the phone and end distracted driving. I will also talk about how an extended protection plan could cover auto payments in the event of a distracted driving accident.
First, let's talk about who is at the most risk: teen drivers. Drivers under the age of 20 have the highest amount of distracted driving-related fatal crashes. Those who text and drive are more likely to not wear a seat belt. They are also more likely to drink and drive and ride along with a driver who is drunk. Teens whose parents drive distracted are moreover 2 to 4 times more likely to drive distracted as well. Over 84% of drivers all ages do recognize the dangers of driving distracted and deem it "unacceptable" for drivers to text or talk on the phone while driving. Nonetheless, 36% of the same people have admitted to texting, talking, or sending an email while driving. Almost 50% of teen drivers will send a text or email while behind the wheel, and at the time of fatal crashes, teens are reported to be the most distracted.
People are just as impaired distracted driving as they are driving intoxicated at the legal blood-alcohol limit of .08%. Texting while driving will increase the risk of a crash or near-crash 23 times, and cell phone drivers are five times more likely to get in an accident than non-distracted drivers. During daylight hours, there are approximately 660,000 drivers who are behind the wheel while on their cellphone. Distracted driving creates an enormous potential for injuries, accidents, and fatal crashes on U.S. roads. The National Highway Traffic Safety Administration (NHTSA) is leading the fight by educating Americans of the dangers of distracted driving. They also partner with state and local police to enforce distracted driving laws to keep us safe out on the road. Many states have laws against talking on the cellphone, texting, and various other distractions while driving. Some states are also thinking of banning drinking coffee while driving because of the distractions it opposes.
Next, there are plenty of ways to get involved in ending distracted driving. Every age group can play a role in saving lives on the road. Teens have a massive impact on their peers and are urged to speak up when they see a friend distracted driving. They can also share on social media the dangers and deadly choices of distracted driving with their friends, family, and neighbors. Parents must lead by example and have talks with the kids about the responsibilities of driving. After all, driving is still a privilege, licenses can be revoked, and lives changed over rash decisions. Employers can play a role for their employees by spreading the word on distracted driving throughout the workplace or setting a company policy on distracted driving. If you feel strongly about distracted driving, you can get involved in your local community by speaking out at town hall meetings and on social media.
In conclusion, as cellphone use while driving becomes a national problem, the chances of being involved in a car accident with a distracted driver increases. If you are ever involved in a car crash or accident, it's better to have protection ahead of time. An extended auto warranty from DriveSmart could cover your car payments if your vehicle is in the shop for an auto repair for more than a week. Their revolutionary Car Payment Reimbursement (CPR) covers up to 3-months of car payments if your car is in the shop for an extended period. DriveSmart offers car rentals and their trip interruption will cover meals and stay while you're waiting for your car. They also provide roadside assistance in the case of a breakdown. DriveSmart's payment plans are affordable and have no finance contract tied to them. It's time to stop distracted driving, so urge everyone you know to put the phone down while they're behind the wheel. Get all the details on Car Payment Reimbursement and don't forget that DriveSmart could cover your auto repair bills while your vehicle is in the shop after an accident.