By Brandon Griner | March 12, 2018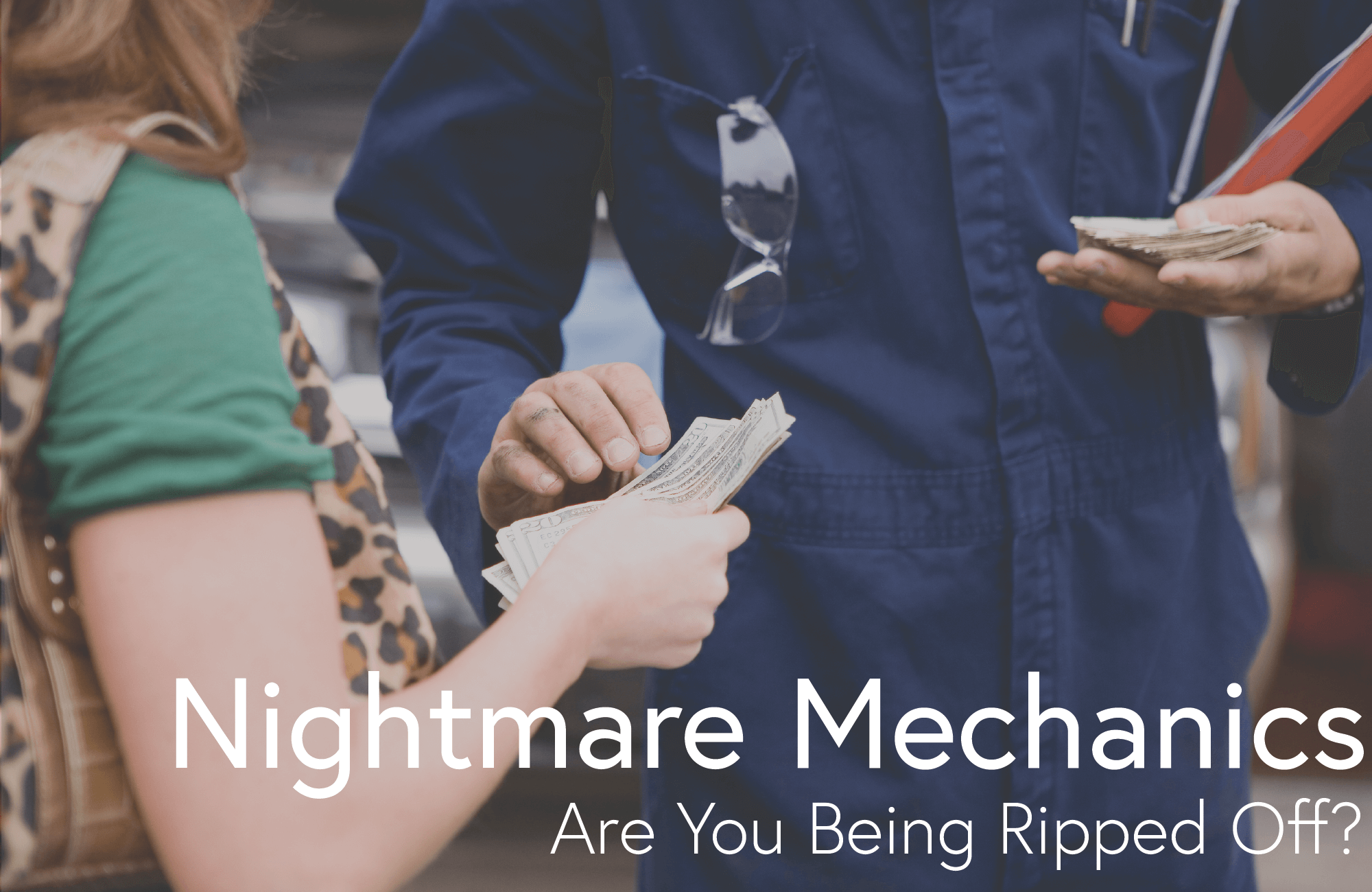 Have you ever needed some type of automotive service and felt like you can't trust any random mechanic? That's because nine out of ten times you're probably right. To avoid being taken advantage of in the future, several reliable news sources have published warnings to the public. Which reminds me of the George W. Bush quote "…fool me once, shame on — shame on you. Fool me — you can't get fooled again." (goodreads.com) The goal of this controversial article is to show you how DriveSmart can prepare you for three tactics that virtually every criminal-minded mechanic will attempt. These include generalizing common problems, the unsafe car tactic, and the transmission flush trick. To prevent this from happening to you, bring your vehicle to an experienced, trustworthy, and licensed mechanic for all automotive services, along with a DriveSmart warranty which will protect you from untrustworthy mechanics and the burden of costly repairs.
Some mechanics won't check your vehicle with a diagnostic machine or conduct a thorough inspection, they'll just say something like, "Most Nissan Altima's with as many miles as yours have a bad rocker arm, so you must replace it now." Many drivers also worry that your mechanic can call the police if he thinks your car is unsafe, consumer reports explain that State laws differ, however in NY a repair facility can not seize your car and must surrender your keys if you paid the bill for work performed. As for the practice of the recommended maintenance routine, performing a scheduled flush is fine, but don't just start doing random flushes because your car isn't running the same as it usually does. Replacing fluid after collecting grime and gunk without the proper flushing could be the reason an old transmission could fail. Faking a leak is by far one of the worst things a truly bad mechanic can do to you. They'll go as far as to spray coolant on a part of your engine to make you think you have a leaking radiator.
You shouldn't have to spend more than you need to for routine maintenance. As featured on CBC there are many mechanics blowing the whistle by exposing these types of repair facilities. In a suspicious industry, mechanic Mark conducts an inspection to make sure that only an oil change is needed before sending undercover agents to report on Economy Lube. Insiders say at Economy Lube the technicians count on the publics ignorance. Stephen (aka Steve Moxy), the owner, enforced making the bill as big as possible. According to our insiders, he owns twelve chains stores and obtained all of this through dishonesty. One of the simplest scandals is transmission fluid. They'll tell a person that the fluid should be clear, or you can go by the smell. With each lie they tell you, the technicians earn money. They're usually on a commission system based on what they sold and how much they sold it for. For example: if a washer fluid replacement is $10, they'll charge $12 and collect a $2 commission. Some of the insiders who chose to remain anonymous say they've never worked for a shadier establishment and they're blatantly ripping folks off. At Economy Lube, there is a standard $20 oil change, but they upsell folks on a $29.99 oil change that no one needs. Fluids and filter changes seem to be the most targeted to naive customers who lack automotive experience. And to add insult to injury, some of the mechanics working on your car have absolutely no experience.
Ryan, one of the undercover volunteers, learned after his visit that every person who goes to Economy Lube is robbed of their hard-earned money. Ryan went in for a $20 oil change and left paying $218 after getting several unnecessary fluids flushed. Ryan's bill was ten times the cost of his oil change. Honest mechanics are receiving a bad name because of all the fraud that sleazy mechanics are performing. After Market Place interviewed Steve and interrogated him about the three cars with hidden cameras sent into his business, he denied that any malpractice had occurred. He didn't want to talk about how or why, but he did say he has over 100 employees, so anything is possible. One of the two employees that were caught on camera denied ever working on any of the cars. The other employee fessed up and stated in this company you're forced to rip people off or you're no use to him.
Consumer Reports chief mechanic John Ibbotson says, "High scare equals high profit". In a nutshell, if a mechanic has your vehicle in the repair shop for one thing, it's easy to manipulate the customer emotionally and convince them something else is wrong. So in the long run they'll spend more money than necessary. Oil change scams have been broadcasted on CBC to give the everyday person who is unconsciously incompetent about the automotive industry a fighting chance to survive in the mechanics domain. If a mechanic says your car isn't operating efficiently, at the very least you deserve an explanation. This can allow you to observe the situation and make a logical decision. Most bad mechanics want you to make an emotional decision so you're not thinking clearly when they attempt to take advantage of you. You should request a written summary of the estimated quote, so you can do your research and make the best decisions. This will ensure you can compare rates and allow you to ask for other professional opinions to better assist you.
Finally, as for lessons learned in all this shady business, stick with a licensed mechanic you can trust. Next time you need an oil change familiarize yourself with a service guide recommended by your car's manufacturer. One of the best ways to protect yourself from unfaithful mechanics and the high cost of repair bills is by owning a DriveSmart warranty protection plan. DriveSmart has a referral program of the industry's best ASE certified mechanics and trusted facilities to ensure you receive the best automotive service. With DriveSmart you'll avoid mechanics generalizing common problems, the unsafe car tactic, and the transmission flush or fake leak tactic. You can receive peace of mind knowing for the lifetime of your car, truck, or van that you'll never have to use your credit card for any repair bills you may encounter in the future. Go to drivesmartwarranty.com to subscribe for more useful tips or to get a FREE no-obligation quote.