Swipe for more categories

Drivetrain Malfunction
on March 7, 2019

Drivetrain Malfunction
on March 7, 2019
What is a Drivetrain?
The drivetrain, sometimes referred to as the powertrain or driveline, on a vehicle is a collection of components that provide power generated from the transmission to the rest of the vehicle. These components consist of the Driveshaft, U-joints, Cv-joints, Differentials, and Axle Shafts. When these components work together, they allow the vehicle to accelerate and move forward. Without each of these components working in sync, problems are almost guaranteed to arise. If this were to happen, you could almost be certain a large repair bill will be waiting for you.
Depending on the type of vehicle you are driving, there are many compositions of the same drivetrain system. These system changes are determined at the time of manufacturing and are commonly referred to as front wheel drive, rear wheel drive, four-wheel drive or all-wheel drive. These changes don't necessarily affect the operation of the drivetrain, just the positioning of the driveshaft and distance from the transmission. For an in-depth breakdown of the exact components and system difference, you can visit one of our previous articles to find out how a drivetrain works.
Common Signs of a Drivetrain Malfunction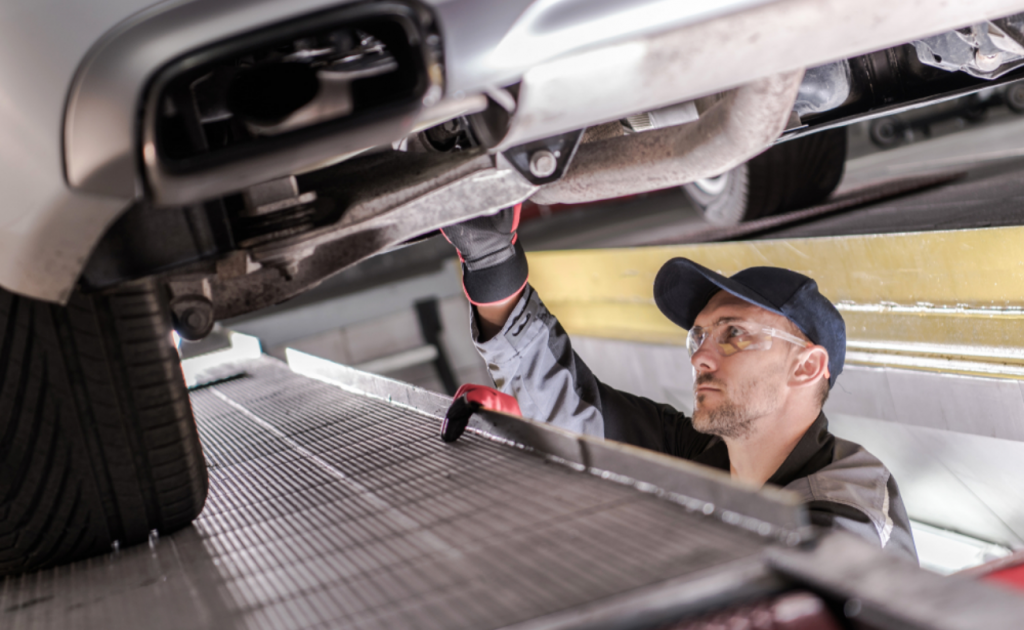 If you are no stranger to faulty components in a vehicle, you may have noticed a similarity between the common signs of a bad transmission and the common signs of a bad drivetrain. This is due to the components being part of the same overall system playing integral roles in the operation of each other. With that said, any issues you may have occurring with the drivetrain should be met with the same severity as if it were the transmission.
The following are a few of the most common signs of a bad drivetrain:
Intense Vibrations from Under the Vehicle – One of the most common symptoms of a failing drivetrain is the presence of intense shaking coming from under the vehicle. Generally, this is caused by worn out u-joints that have loosened and caused the vehicle to begin shaking while in operation.
Leaking Transmission Fluid – If your vehicle continues its constant shaking, you run the risk of spreading damage to the transmission. If the driveshaft has too much freedom, your vehicle may begin leaking fluid from the back of the transmission.
Audible Clunking Noises – If you hear a clunking noise when shifting gears on your vehicle, you could assume there is an issue with the transmission or driveshaft.
Issues While Turning – If your vehicle is having issues while turning, your driveshaft could be the culprit. A failing driveshaft could lead to the wheels to become less responsive when turned, providing a threat to you and for those surrounding you.
Car Shutters when Accelerated – If your vehicle shudders or "bucks" when you accelerate, you may be witnessing signs of a loose u-joint or bad center bearing.
Clicking or Knocking Noise while Driving – If your vehicle is making a clicking or knocking noise while in operation, you may have a failing or worn out Cv-joint.
Irregular Sounds – Another issue that can help you determine if you have a bad drivetrain or not is the presence of irregular noises coming from underneath your vehicle while driving. Normally, these noises can vary from thuds, clunks or squeaks. While most can simply be lubricated to bring back full functionality, it is still recommended you bring your vehicle to a mechanic for a full diagnostics.
No Movement – Being one of the most defined issues of drivetrain failure, the lack of movement when attempting to accelerate typically means your drivetrain has failed. This is most likely due to the driveshaft disconnecting itself from the transmission system. When this happens, it is normally accompanied by a loud thud noise indicating the last of the damage. Towing your vehicle to the nearest repair shop is recommended.
While you may still be able to operate your vehicle after any of these issues appear, it is advised you bring your vehicle to a repair facility to avoid any additional damage. Postponing repair could not only damage the drivetrain and its surrounding components; it could cause issues with your transmission as well. Depending on the severity of the issue you may be required to bring your vehicle to a licensed transmission repair center.
Drivetrain Warning Light
Additionally, your car may notify you of an issue with your drivetrain or powertrain by the use of an illuminated indicator located on the vehicle's dashboard. This warning light will only be present on automatic transmission vehicles, as a manual transmission vehicle does not include the necessary components to determine a drivetrain issue.
When this light illuminates, the vehicle is detecting an issue in either the automatic transmission system or transaxle. This warning light should be met with severity, as the indicator will only illuminate if there is a defined problem occurring within the transmission system. If left untouched you can almost guarantee lasting damage will occur to the vehicle's drivetrain.
What Causes Drivetrain Malfunction?
When it comes to drivetrain issues, you may be glad to know that there are not a lot of issues that you can cause that would directly lead to a drivetrain malfunction. Normally before a drivetrain fails you will hear, or experience, any of the common issues listed above. If you choose to neglect any of these issues for long enough you put your drivetrain at risk, eventually causing a complete drivetrain failure.
In certain circumstances, individual components damaged due to careless driving can indirectly affect the life of the drivetrain. This careless driving normally includes running over potholes, running your vehicle up curbs, or driving too quickly over speed bumps. Depending on the severity of the damage sustained from any of the listed incidents, you could potentially damage your vehicle's drive axle. The axle itself would not cause the drivetrain to cease functionality, but if left untreated the drivetrain can eventually be impacted.
Another issue that could indirectly affect the drivetrain is the lack of lubrication provided to the different components. You should always ensure that all internal fluids, including engine oil and transmission fluid, are replaced regularly. You can find the specifics of replacement times outlined in your vehicles owner's manual. Bringing your vehicle to any repair facility will allow you to schedule a fluid replacement service.
The final and most overlooked reason for drivetrain issues would be neglecting to change the differential fluid. This fluid needs to be replaced just as engine oil does, but unlike engine oil, the differential fluid only needs to be replaced every 30,000 to 50,000 miles (exact mileage can be found in your car's owner manual).
In front-wheel vehicles, the differential is located inside of the transmission housing and typically shares the transmission fluid. In rear-wheel drive, the differential provides its housing and holds its lubrication. This is usually a dark, thick oil that is more viscous than engine oil. Visiting any local transmission shop should provide you pricing and appointment times to have your differential fluid changed.
Included Introductory Maintenance
Oil Changes, Brakes, Batteries
+ more
!
Average Drivetrain Repair Costs
If you find yourself searching for the average drivetrain repair cost, you may already be aware of the large price tag associated with the repair. If you were lucky enough to catch the issues early and isolate the cause to a specific component of the drivetrain, such as leaking fluid from the differentials or Seal and Gasket repairs, you could get away with a minimal repair cost of around $100-$200.
For major component replacements such as bearings, gears, joints, or a complete driveshaft repair your bill could be in the $1000 – $3000 range. This price varies depending on the size of vehicle you own, the type of drivetrain installed (FWD, RWD, 4WD, AWD) and the cost of specific parts. Ask your mechanic for a breakdown of the estimate to make sure you are paying a fair price.
Protecting your Drivetrain
While preventing issues from happening to your drivetrain may not fully be in your control, the repair bill will still inevitably find its way into your hands. Some individuals may be able to provide the full ~$3000 upfront, but typically most drivers cannot afford such a large monetary hit. Luckily, Drive Smart offers a variety of coverage plans for any make, model, or vehicle. We can help bring your $3000 bill down to a low $100 deductible!
If you are concerned about your vehicle's drivetrain and the repair bill associated with it, you may benefit from our Powertrain+ coverage! With comprehensive coverage for your vehicle including Introductory Maintenance, Roadside Assistance, Towing Assistance, Car Rental Assistance and Trip Interruption Coverage, we never offer anything less than the best quality coverage throughout your vehicle's lifecycle.
In the event your vehicle needs repair, bring your vehicle to your local repair shop and provide them your Drivesmart identification card. From there your job is done! Just sit tight and wait for your mechanic to call once the repair is complete, pay a low $100 deductible at the time of pickup and you're all set!
For more information regarding our powertrain plans and vehicle coverage contact 1-888-980-7459 to speak to one of our sales representatives or find out more information on our website!
×
Thank you! An agent will be contacting you shortly.