Swipe for more categories

What is a Powertrain?
on October 27, 2018

What is a Powertrain?
on October 27, 2018
In this article we discuss:
The standard drivers of 2019 are not familiar with the increasingly sophisticated parts that operate within their motor vehicle, let alone answer "what is a powertrain." The powertrain is listed as the most important mechanical systems in a vehicle which generates power and delivers it to the road in an automobile.
What a Powertrain is for a Vehicle.
What Powertrain Faults and Powertrain Malfunctions Are.
What Powertrain Component Failures Can Cost You.
What a Powertrain Warranty Is.
What a Powertrain Warranty Covers and Doesn't Cover.
What is a Powertrain?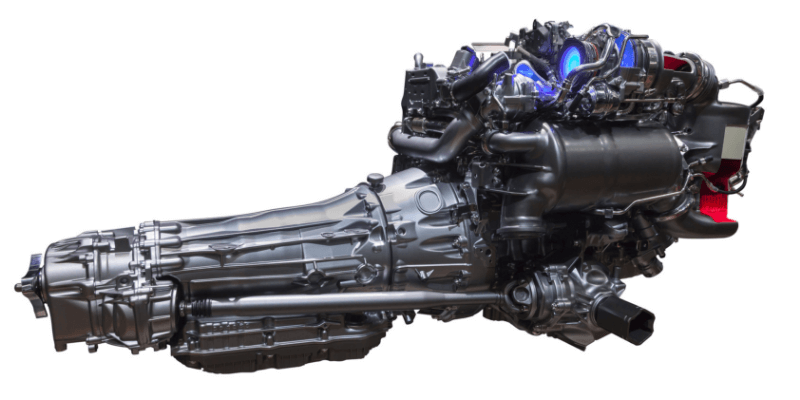 A vehicle's powertrain system includes: the engine, transmission and drivetrain. A well-treated powertrain system will always optimally perform to the vehicle's manufacturer standards. It will have proper fuel and oil consumption efficiency which will allow a vehicle to drive smoothly. Symptoms of a malfunctioning powertrain can include overheating, unusual handling, shaking/vibrating, whining and growling noises. The louder your vehicle is, the more concerned you should be. Additionally a powertrain warranty covers the cost to repair/replace these components when they malfunction or fail.
What is Powertrain Fault?
Having a powertrain failure or powertrain fault tends to happen to older and or higher mileage vehicles and can cause your vehicle's power components to overheat. If you ignore these warnings, your vehicle may operate in a defaulted "safe mode" until the issue has been resolved/repaired.
Powertrain Malfunction?
Any type of powertrain malfunction correlates directly with the most important vehicle components such as: the engine, transmission, transfer case and drivetrain. Any of these mechanical breakdowns can also be called a "drivetrain malfunction." In the case of a powertrain malfunction, a vehicle will activate the powertrain warning light (lamp) when a vehicle is experiencing a concerning power related condition. If the vehicle is continually driven with the concerning condition, chances are that there will be damage done to the engine, transmission, and drivetrain. Any powertrain malfunction will re-actively reduce the power and speed of your automobile until the component is repaired.
What is a Power Warning Lamp
The powertrain warning lamp is an indication to decrease your vehicle's workload. There are causes for the powertrain warning light to come on that doesn't necessarily mean the vehicle is having a powertrain malfunction. The most common case would be if you pull a trailer on the back of your vehicle and your warning light comes on. The vehicle is warning you that it's struggling with its workload and you should remove the trailer before the vehicle starts overheating. If ignored you risk additional damage to your powertrain system due to its overloaded-workload. This leaves you susceptible to powertrain failure.
Powertrain Failure Repair Cost:
Powertrain failures are among the most expensive repair bills in the auto industry. Depending on the vehicle, transmission repairs can cost about $2,000, with the engine alone costing $3,000 or more. A mechanic would have to take your engine/transmission apart to service or rebuild it, which would be time-consuming. With labor costs constantly increasing (current rate of $125/hour), expenses can easily exceed the entire cost of an extended vehicle protection policy. This is especially true if your vehicle is required to be held in the shop for more than one day.
Should I have a Powertrain Warranty?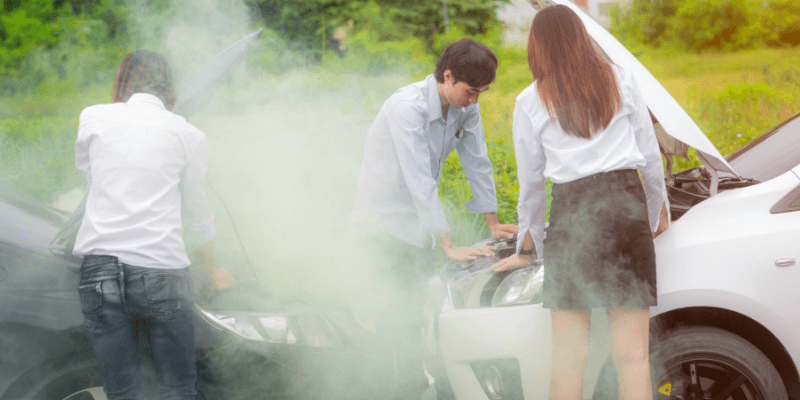 Since the 1990s, nearly all automobiles were sold paired with a "manufacturer guarantee", also known as a Manufacturer Warranty. This warranty covered practically everything that can go wrong with the vehicle during its time of coverage. However, the majority of all limited manufacturer's warranty will not be used during their service term throughout their vehicle's lifetime.
Just like any other new car warranty, powertrain coverage will be limited in terms of time or mileage (whichever comes first). Powertrain warranties service terms are always longer than other warranties, like the "bumper-to-bumper" coverage. After all, powertrain components are typically more expensive to replace and service than exterior cosmetics(depending on the car) or suspension parts. Some automotive dealerships can offer the "industry standard" Five years or 60,000 miles of powertrain coverage. Kia Warranty and Mitsubishi Warranty are the exceptions to this standard as both extended coverage to Ten years or 100,000 miles. Therefore, if your car is older than the warranty coverage period or has more miles than allowed, then those repairs won't be covered. Extra exceptions arise when considering a hybrid vehicle, as hybrid components usually have their own warranty. These hybrid components are typically separate from the powertrain coverage. Hyundai Warranty offers lifetime coverage and unlimited mileage on its hybrid components, while Toyota Warranty parts are limited to Eight years and 100,000 miles.
The Powertrain Warranty: Solving Powertrain Failure
A powertrain service plan covers the components of a car that provides power, these components are often referred to as the "Big-Three": the engine, transmission and drivetrain. Essentially, these parts are responsible for making the vehicle move. If any of these components are found to be malfunctioning or damaged within the original service term, the manufacturer is obligated to fully pay for the components repairs or replacements.
Why Manufacturers Warranties Aren't Lifetime Warranties:
Manufacturers understand their cars will inevitably experience failures, but they can only financially cover the first Three years of a car's life cycle. They simply can't afford to fix every issue with their car models that age past Three years old; As they have new inventory they're attempting to sell that also comes with the same Three-year service guarantee. With that said, it's clear that the extended powertrain warranties have a relevance for every vehicle owner at some point. Powertrain warranties are extremely popular for drivers who wish to protect their car's powertrain after their original limited manufacturer's warranty expires. This is because once the manufacturer warranty expires, your vehicle is no longer covered for mechanical breakdowns and any repairs would be out of pocket. Therefore you may decide to purchase an extended vehicle protection plan from either the dealership you purchased the vehicle from or a reputable third-party protection service provider like DriveSmart Warranty.
How Long Does a Powertrain Warranty Last?
A powertrain warranty that covers your vehicle's mechanical breakdowns gives you the financial peace of mind to invest your money into something other than your car when it comes time to bring it into a repair shop. For this reason alone, many vehicle owners decide to get a powertrain protection plan that would cover nearly everything in their vehicle for Five years or 100,000 miles upon enrollment.
When Should You Buy a Powertrain Warranty?
Consider what is covered and what is not covered within the Powertrain Warranty, and decide if it's valuable for your vehicle as well as these Key factors before purchasing a powertrain warranty:
Are you going to keep the car for a long time?
If you plan on driving your car for a long time, powertrain warranties help pay for inevitable repairs down the road.
How reliable is your vehicle?
As vehicles age, breakdowns become much more common so if your car is aging or is known to need powertrain repairs, a warranty can mitigate some of these costs.
Looking to sell your vehicle?
A powertrain warranty can increase the vehicle's resale value as they are transferable.
What's Covered in a Powertrain Warranty:
An industry standard powertrain warranty will cover these powertrain system components:
Excluded Engine Coverage
Control Module
Starter Motor
Engine Radiator
Coolant Hoses
Heater Core
Fuel Pressure System
Sensors
Wiring
Excluded Transmission Coverage
Transmission Control Module
Transmission Cooling Lines
Radiator
Electrical Connectors
Clutch & Pressure Plate
Hoses
Sensors
Wiring
Excluded Drivetrain Coverage
Drive System Control Module
Electrical Connectors
Radiator
Drive System Cooling
Locking Hubs
Wheel Bearings
Sensors
Wiring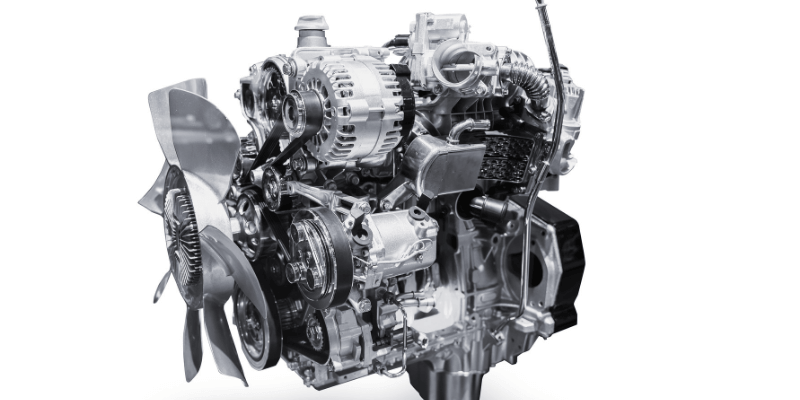 Within the details of a powertrain warranty, the engine components that can be covered are as follows: crankshaft, pistons, timing belt and gears, intake and exhaust valves, and the oil pump, among other items. Other internal parts may be covered in some warranties, depending on where and how the damage occurs.
General cost to repair engine components: (these values may fluctuate depending on the year, make, model and zipcode you reside in)
Timing Chain Replacement: $900–$1200
Head Gasket Replacement : $1,500–$2,250
Engine Front Cover Gasket Replacement: $600–$900
Oil Pump Replacement: $900–$1500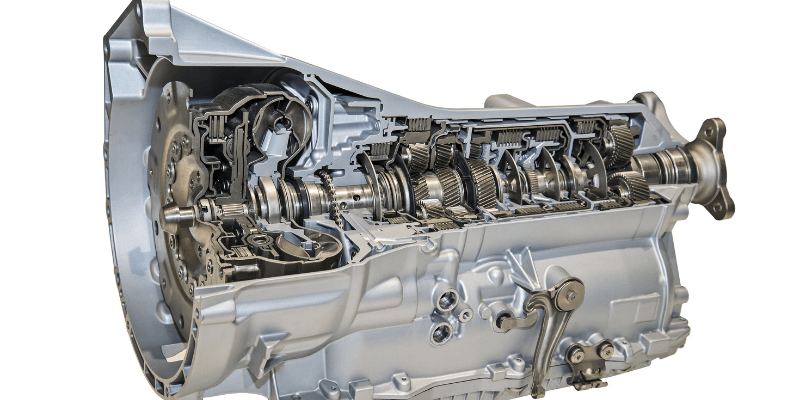 When it comes to powertrain warranty coverage, transmission protection will often include internal parts like the mounts and torque converters. However, a powertrain warranty often excludes cables and electrical items, so be sure to read the fine print.
General cost to repair Transmission components:(these values may fluctuate depending on the year, make, model and zipcode you reside in)
Transmission Mount Replacement Cost: $300–$400

Transmission Position Sensor Replacement Cost: $150–$300
Transmission Replacement Cost: $2150–$3000
Transmission Fluid Change Cost: $50–$100
The drivetrain is a mechanical system with-in a motor vehicle which connects the transmission to the drive axles. A typical drivetrain contains a series of parts working together to transfer the rotational power produced by the car engine: drive shafts, differentials, drive axles and the final drive all of which is covered with standard powertrain warranty.
General cost to repair drivetrain components: (these values may fluctuate depending on the year, make, model and zip-code you reside in)
Axle Shaft Replacement: $400– $600
Drive Belt Tension-er Replacement Cost: $300-$600
Constant Velocity Boot Replacement Cost: $300–$500
Constant Velocity Joint Replacement Cost: $500–$1500
What's Not Covered By a Standard Powertrain Warranty
The coverage of a Powertrain warranty will vary based on the provider; as well as year, make and model of the vehicle. Standard powertrain warranty covers the engine, transmission/transfer case and drive axles (for non heavy duty vehicles).
How to Get a Powertrain Coverage?
DriveSmart has a program designed to protect older and higher mileage vehicles from the high cost of repair bills. This protection plan is called Powertrain Plus, and covers the following components:
Engine
Transmission
Transaxle
Drive Axles
Air Conditioning
Cooling
Heat
Fuel System
Seals and Gaskets
Coverage also comes with 24-hour emergency roadside assistance for towing, lockout assistance, fuel delivery, battery jumpstart and flat tire assistance. In addition, it comes included with travel reimbursement allowance for meals and lodging if you break down away from home. This is very helpful considering that most folks between the ages of 45 and 65 buy a vehicle and plan on keeping it whether it's paid off or still being financed. This service can be used in the United States and Canada with any licensed mechanic of your choice.
Interested in a Powertrain Coverage?
Our's comes with Included Introductory maintenance
+ more
!
When it comes to major components like your drive axles, you're going to want the best service and the best parts. As your vehicle ages, its worth diminishes because it's a depreciating asset. With a DriveSmart Warranty, you'll prolong the value of your vehicle, making it worth more and not become a money pit. The policy is transferable, so you can sell your car along with the extended coverage attached to it to the next owner and expect more in return.
Powertrain Coverage Alternatives
Now that you know what a powertrain warranty is and what it covers, you shouldn't expect engine, transmission or drivetrain maintenance to be covered under a limited manufacturer's warranty. This leaves you responsible for engine tune-ups and oil changes.
A common alternative that manufacturers will offer is an "introductory maintenance package". This type of maintenance package allows you to pay for a few service visits in advance, which can save you some money.
An introductory maintenance program is becoming more appealing than a longtime powertrain warranty – which for a while were the biggest selling points for domestic automakers. Nowadays, it seems like the warranty isn't as important anymore. It's believed that because of this, Chrysler Warranty and GMC Warranty needed to drop their warranty coverage down to Five year or 60,000 miles from Ten year or 100,000 miles. The biggest problem with the 100,000 mile manufacturer warranty is that it will not transfer from the original owner to the next buyer. Where as extended auto warranties can transfer with the ownership of the car.
With more and more folks buying cars with the intention of keeping them for the extent of their lifecycle, it only makes sense for consumers to protect their largest investment. No one wants to pay for an expensive repair bill in full. Next time you need help with a powertrain malfunction or a notice a dashboard warning light, DriveSmart will be there for you!
×
Thank you! An agent will be contacting you shortly.