Swipe for more categories

You may be familiar with this scenario; you are driving down the road on your daily commute to work when out of nowhere you see a little yellow light up on your dashboard illuminate. Immediately you recognize the light as the check engine light. But, what could it be? Why is it turning on out of nowhere?
Unfortunately, the instance of a check engine light appearing could be due to anything. For a majority of those not skilled in cars a check engine light appearing could provide troubling. We will go over the steps to take to ensure that you can find your issue and possibly fix it before defaulting to taking it to a repair shop.
Identifying the Cause
Unfortunately, newer cars don't display the check engine light like older cars used to do. But, you are in luck because AutoZone (or pretty much any local car parts shop) offers free check engine light diagnosis. These diagnostics are usually done on a handheld device that will tell the check engine light codes and print out a run down of what could potentially be the reasons for the check engine light to illuminate. If going to a repair center is not your forte you could always purchase a device to check engine light codes to be delivered to your home. These devices simply plug into your car and connect to your smartphone via Bluetooth or direct connection and will display the results on the provided app. Unlike the devices at provided car part shops, these devices are usually equipped with the ability to turn off check engine light sensors by resetting the computer value that won't display the error until the affected sensor is trigger again.
I Got the Codes – Now What?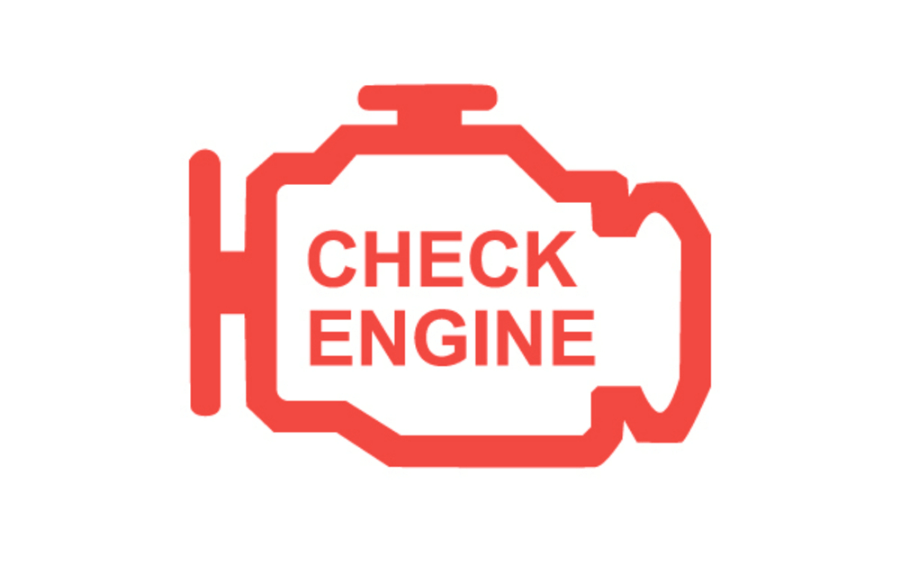 So, now that you have your diagnostics done and you have the codes in your hands the next question you'll be asking is "what does my check engine light mean?". Well, the next best step to take would be to go onto Google and see what these codes could mean what could cause the check engine light to come on. Looking up codes based on your make and model will yield the best results in figuring what is wrong and what any common fixes you could perform would be.
There are some typical issues that any car could be experiencing that would cause your car to be displaying this indicator. Some popular ones are:
Bad 02 Sensors, this occurs when your O2 sensor simply dies or burns out.
Gas cap is loose. Sometimes when you receive an error code stating there is a emissions leak it could be attributed to a loose gas cap or a gas cap with a broken seal. This would require you to simply replace your gas cap.
Your catalytic converter is bad. If this is the issue you are experience you will know without the need of a check engine light coming on. You will notice the RPM's spiking all the way up even under the smallest amount of acceleration. Sometimes causing your RPM's to be as high as 3000 or 4000 to get up to 50mph. When this issue happens, you will see the check engine light blinking when you press on the gas as the sensor is constantly being triggered.
The Mass Air Flow Sensor (MAF) has gone bad. Just like the 02 sensor this one is an extremely common one that will usually rear its head at around 100k miles.
The spark plug, or spark plug wires, are faulty or loose. You will usually notice this issue happening to your vehicle due to loss of power when accelerating. For most cars this is a pretty simple fix and will be covered under a normal tune up from your store.
Again, these are just some of the more common issues a majority of cars will experience after again on the road. Once your check engine light comes on these are a good starting point but the only one who could fully determine the cause of the issue would be a mechanic.
Why Not Just Leave the Code?
So, why don't you just leave your engine light on?
If my O2 sensor is bad and all I'm losing is an extremely low percentage of MPG then why even pay the hundreds to fix it?
Free Introductory Maintenance
Oil Changes, Brakes, Batteries
+ more
!
Well, that is always one option, and It's actually an option that a ton of people end up doing on their own cars. In a majority of states there is no restrictions when it comes to quality of car and emissions on the road. But, in states such as NJ, and NY it's not necessarily a possibility to ignore all of the check engine lights due to yearly inspection. In some cases, a small emissions leak could turn into something large, such as a fuel pump going bad or the engine issue going bad that couldn't be detected because the check engine light was already on.
What Do I Do Next?
Well the most obvious next step would be to take it to a repair shop and pay to have the problem causing the check engine light fixed. You could also look up the issue online and see if there's any parts you could purchase such as the air filter, or the gas cap, online. This way you could potentially save hundreds of dollars for a simple fix that a repair shop will overcharge you for. Regardless of what you decide to do there is an urgency to not let the problem escalate and leave the check engine light unchecked.
×
Thank you! An agent will be contacting you shortly.